Education Fund
SharedImpact feature Funds make it easy to get started in Philanthropic Impact Investment. We have created a portfolio of opportunities available at a single click.

The SharedImpact Education Fund is a made up of a pool of investments in some or all the organizations listed below. The composition of the fund changes from time to time.

Net returns from the fund accrue to your Account and can then be used for further Philanthropic Impact Investment or Granted to an allowed organization.

It is also possible to make Philanthropic Impact Investments into individual items in the Portfolio from your Account.
Typical investments in this sector
Accountability Lab
An incubator for tools to fight corruption and make governments more responsible
The Accountability Lab is changing the paradigm for engagement in the developing world. It is: citizen focused- supporting people that know the solutions to their own challenges; a learning organization- embracing failure as a learning process; radically transparent- with all expenses made public in real time; cost-effective, through ensuring that every dollar is spent as wisely as possible; and completely independent- through not seeking or taking any money from governments or corporations.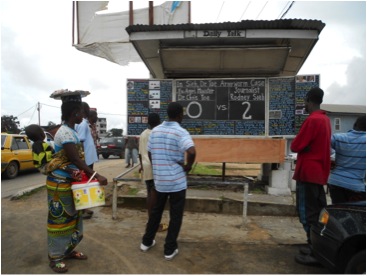 Daily Talk: A citizen journalist's low-tech initiative to make information on civic rights and responsibilities accessible to thousands of Liberians every day.
---
Acumen
Non-profit that invests in tackling poverty through pioneering the use of patient capital
As a non-profit, we raise charitable donations that allow us to make patient long-term debt or equity investments in early-stage companies providing reliable and affordable access to agricultural inputs, quality education, clean energy, healthcare services, formal housing, and safe drinking water to low-income customers.
---
Benevolent
Benevolent is a digital nonprofit that makes it possible for low-income individuals in the U.S. to access the support they need to overcome one-time barriers to pursue their goals and sustain their families.
When a family is asset-poor and on the financial margins, often a single hurdle can be the thing that leads to falling short of their goals. A Brookings Institute study of financial fragility in the U.S. found that "Almost half of all U.S. households surveyed report that they either certainly or probably could not come up with the funds to deal with an ordinary financial shock of this size [$2,000]." At Benevolent, we've found that small hurdles - even those costing just $300 to $700 to overcome - can represent huge barriers in the lives of low-income families pursuing a path toward financial stability and strength.
Funds to meet these hurdles - uniforms or bus fare for a new job, furniture for a first apartment, a laptop to succeed in school, funds for certifications and training, and other basic one-time challenges - can be the lynchpin of progress. Benevolent invites everyday givers into these challenges by presenting first-person stories of striving low-income adults who face a singular need along the way towards their self-determined goals.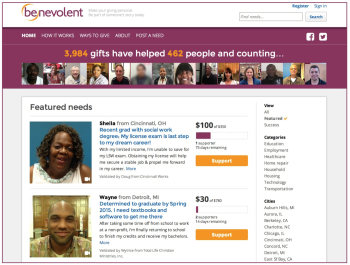 By introducing the first-ever micro-giving platform with 100% validation and transparency, Benevolent provides an outlet for the kindness people are eager to show one another.
Partnering with local nonprofit partners for validation, fulfillment and reporting, Benevolent helps low-income families meet their own goals and move forward towards stability and overall well-being.
---
Blue Ventures
Social enterprise that conserves marine ecosystems and coastal livelihoods through community action in Madagascar and Belize
Blue Ventures develops and scales innovative models for marine conservation within some of the poorest tropical coastal communities.
We work in tropical, frequently very remote, places where marine resources are vital to local people and economies and where there is a fundamental need to support human development. The results of our work help us to innovate new ways to protect marine biodiversity that benefit coastal people everywhere.
---
Bristol Together
Purchase of freehold properties and payment of business overheads
---
Hands With Hands
To empower and support local people and projects in Nepal for immediate relief after the earthquake as well as long-term building of sustainable solutions.
A 7.8 magnitude earthquake, the strongest after 80 years, has just shaken up Nepal. So many people lost their homes, total villages are destroyed; shelter, water, electricity, and medical supplies are pressing issues at the moment.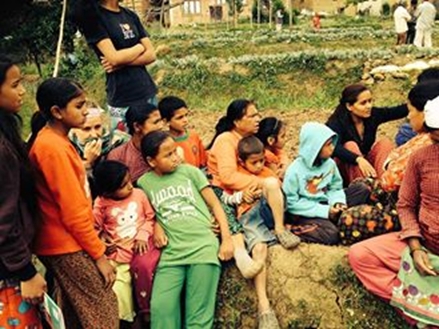 Here is how you can help: you can make a donation towards the Germany based charity handswithhands that operates since 15 years on sustainable projects in Nepal. It has a huge network of people and projects throughout the country who luckily all survived and are already active in immediate relief.
Handswithhands is professionally run by volunteers. The co-founder of handswithhands, Kira Kay, happened to be just outside Kathmandu, when the earthquake hit, and has mobilized her team, so funds are carefully spent.
The first project for immediate shelters has started through the local company abari.com, more long-term shelters are sourced for. Other members of handswithhands are about to visit villages that are hardly left, to offer immediate help, for that further supplies are needed. And more projects to come.
---
Kilimanjaro Blind Trust
The Kilimanjaro Blind Trust aims to improve the lives of blind and visually impaired children in Africa. 80% of blind children lack access to quality education. We are changing this.
In September 2005, 27 climbers set out on a mission to reach the summit of Mt. Kilimanjaro. Eight of them were blind. Before and after the seven-day expedition, several visits were made to schools and facilities serving the blind children in the Arusha region. It was immediately apparent that the need was enormous; students had no or little access to Braillers - critical tools for their literacy and education - nor did they have basic tools like guide canes to navigate the school yard. The experiences provided first-hand insight into the pressing need for better educational resources for blind and visually impaired children in East Africa, and from that moment the group decided they'd do something to help, and the Kilimanjaro Bind Trust was established to provide better support for the education of blind and visually impaired children in East Africa, with literacy at its core.

Today, the Kilimanjaro Blind Trust has grown to support projects across seven countries in East Africa. We've learned that by improving literacy, more blind and visually impaired children will eventually achieve higher job placement rates, and higher literacy will improve their ability to integrate and increase their independence. We do this by ensuring that thousands of Braillers across East Africa, are maintained and in working condition. We also provide new Braillers where needed, and help support the teaching process by providing Braille paper and other critical supplies. And now we're funding new technology and initiatives that will lower the costs of our services and increase our reach even further.

Our primary goals are as follows:
Ensure that every child in East Africa has access to a braille machine and quality teaching materials
Build and run the infrastructure required to track and maintain all braille machines in East Africa
Increase access to affordable quality Braille paper, Brailler spare parts, and other necessary supplies
Advocate on behalf of blind and visually impaired students from primary through university
An enormous thanks in advance for your support in helping us bring literacy to Africa's forgotten blind children. Any donation will have a huge impact, but here are some guidelines for how your gift will be used today:
A gift of £50 buys a year's supply of Braille paper for 8 children.
A gift of £200 covers spare parts to repair 10 Braille machines.
A gift of £500 can unlock a lifetime of access to a Braille machine for a blind child. In the US, blind people with Braille literacy have an 80% better chance of finding employment. Our goal is to have one Braille machine for every blind child.
A gift of £3,500 would deliver training for 10 additional repair people. When we train technicians, we create the potential to repair 200+ Braille machines per year
---
Shivia
A UK-based charity empowering the poorest in rural India to create livelihoods, boost income and inspire permanent positive change.
We launched our Livelihood Programme in August 2011; to date our poultry project has helped to train over 6,000 families in backyard poultry farming and sell them subsidised poultry toolkits
Poultry Development Services Project (giving families the skills to enter backyard poultry farming and radically improve their earning power):
Training given in backyard poultry farming for 6 months, chickens can be sold at market from 12 weeks and hens start laying eggs at 6 months
Toolkits (10 one day old chicks, vaccinations, feed, medication and most importantly, training for 6 months) are sold to home-farmers at a subsidised rate; they pay £5 but it costs us £12 - they cannot afford the cost of a full toolkit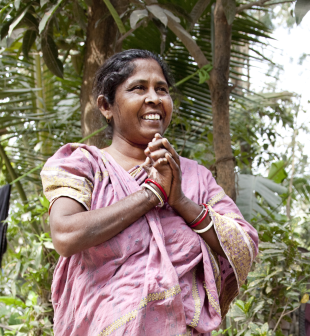 Agri-management Services Project (getting big results from small plots of land: enhancing the poor's agricultural yields through training and modern techniques):
Launched in April 2014 in the same rural locations as the PDS – to help farmers in a deeper, more integrated way
Providing technical assistance services across agriculture and agri-allied sectors to enhance productivity as well as provide risk mitigation mechanisms and more remunerative market linkages
Home-farmers pay 100Rs (£1) for the services
Grants to Shivia will be used to support both our Livelihood Programme projects in rural West Bengal.
---
TBLI Foundation
TBLI is dedicated to promoting the redesign of the financial sector towards integrity of management and eco-effectiveness in order to achieve a more sustainable and social economy.
TBLI Foundation (Stichting TBLI) is a foundation under Dutch law, supporting educational projects and conferences with the aim of raising awareness of sustainable finance and sustainable businesses within the financial community, among investors and the general public.
---
Tusk Trust
Protecting endangered species in Africa
Grants to the Tusk Trust will be used to support wildlife conservation, communities, and environmental education in Africa.
---